Professional headshot and LinkedIn Photographer
THE PRESENTATION YOU DESERVE
INESSE Handmade Photography® studio creates business, corporate portraits and headshots and photographic services, aimed at promoting your image. We operate throughout Italy, with presence in Rome, Milan, Florence and Lecce.
Institutional portraits that tell and strengthen the identity of professionals and companies and that enhance the image that we give of yourselves, which is a business card to achieve your professional goals.
A good photographic portrait is a fundamental element to present yourself to a company, a potential customer or a new client in an effective, direct and professional manner. Hours and hours spent writing a qualified curriculum vitae without having a valid image that communicates one's personality can be a great limitation in submitting an application for the dreamed job.
Nowadays, with the fast and increasingly visual way of sharing contents online, the first impression can be crucial when trying to instill trust and confidence to a customer and start your business strategy in the best way.
At INESSE we strive to set up the best context to create a portrait with a strong visual impact for our customers. We offer portrait photography sessions to be carried out in a peaceful and confidential environment, where we will implement an appropriate set of lights guiding you in finding the best pose. By making use of immediate sharing, we will capture a variety of expressions that can convey different nuances of your personality in line with your business purpose and needs.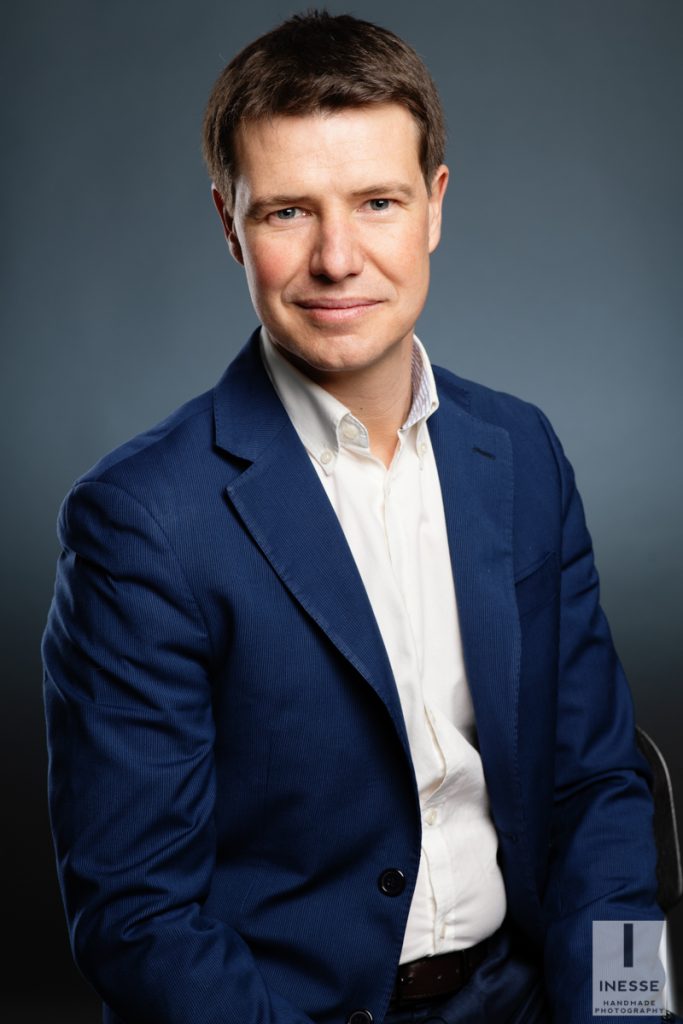 HOW TO MAKE USE OF A PROFESSIONAL PORTRAIT
Curriculum vitae, social network profiles, newsletters, press kits, websites and company reports: there are more and more fields where a contemporary and effective image is required in line with one's profession.
Our selected customers appreciate our discreet and professional approach that makes them the protagonists of their communication campaign by achieving with us an image that has a strong and strategic visual and communicative impact.
Whether it's a corporate portrait or a personal headshot, our services will improve the investment value of our customers and facilitate the promotion of their image.
Why choose our studio:
High level of competence in the management of the service:

choice of style that best represents your personality and activity with an analysis of your market, choice of background color, atmosphere of photos and type of clothes to wear; post production and live delivery of high definition images.

A

dedicated team of photographers for corporate and institutional portraits

consolidated by years of experience: active in the national market for over 15 years

Professional response to the needs and expectations

of large companies and International corporate clients

Competitive rates and guaranteed delivery times
HOW THE BUSINESS HEADSHOT PHOTO SHOOTING  WORKS
The duration of the portrait session varies, depending on your availability and the number of images that are required, it can take from a few minutes up to one hour.
Our experience will serve you to quickly find the best feeling with the surrounding set and the camera. Being in front of the lense is never taken for granted from us. We are sure that our approach will put you at ease with the situation whilst making this experience pleasant and effective for you.
We will try different positions, standing up or sitting on a stool, shaping the light and enhancing your most effective expressions according to your characteristic features. 
Relying on a team of experts at this stage will guarantee the results regardless of your confidence in front of the camera. The choice of the outfit will be made during the consultancy phase ahead of the photo shoot. In case of any doubt you can bring different options and we will check together what will guarantee the best performance.
LOCATION OF YOUR CHOICE 
The photo shoot can be carried out at our studio, your office/workplace or on location/outdoors.
AT THE STUDIO

: shooting in our pose room provides all the tools we have and a wide variety of professional lights as well as guaranteeing maximum discretion
AT WORK

: we bring our tools and backdrops directly to your workplace to create portraits with a neutral background for single or group photo shoots. By checking together the set up of your office, we can use available spots to create ambient portraits that, in addition to defining your image, can also enhance the context in which you operate

OUTDOORS

: depending on your profession, an outdoor session will project important contents about your image, setting your personality in a suitable context that we will evaluate together before the shooting session. Location commissions for clients who require a headshot with a London backdrop.
ONLINE SERVICE MANAGEMENT
All the phases that precede and follow the portrait session are fully managed online. The initial consultancy, the signing of the contract, the delivery of high and low resolution images. Each client will have his own reserved online area where to find his documents and see the images taken during the photo shoot. 
A first assessment will be done during the shooting session and all images will be all available online for further remote consultation. All selected photos will ultimately be delivered in high resolution.
POST-PRODUCTION OF THE IMAGES
We dedicate a specific parenthesis to editing the images. After years of experience we are convinced that a good preparation for the photo shoot is mainly sufficient to guarantee you an optimal result. This is why we provide all our customers with a preparatory consultancy service that will guide you step by step in order not to leave anything to chance. 
After careful preparation and by providing attention to all details during the shooting, we will deliver the high and low resolution files properly edited on professional lights and colors calibrated monitors. Any imperfections in the skin, excessive reflections or other apparent defects can be easily corrected during the shooting or by taking advantage of a make-up service that we can make available. If the client does not find all these arrangements sufficient, we can  offer a thorough ad hoc post-production service.
ADDITIONAL SERVICES
In addition to photographic coverage, we offer the following services:: 
Fully equipped photo set

mountable in multiple rooms for corporate portraits

Immediate editing

for press deliveries and social sharing

Make-up service

with our trusted partners

Video service

for the realization of interviews and business presentations
Fill out the contact form